Supporters, Partners, and Contributors
The Seventeenth Conference on Health Care of the Chinese in North America
"Preventive Care: Opportunities and Challenges"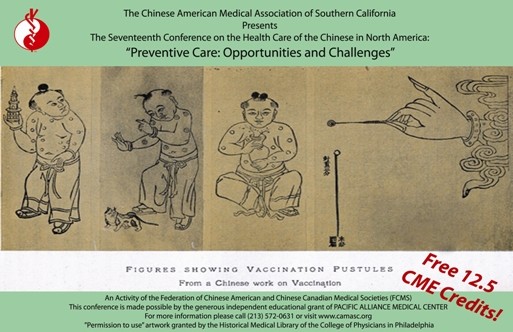 Date: Saturday, October 11 - Sunday, October 12, 2014
Location: Los Angeles, CA
Venue: Millennium Biltmore Hotel Los Angeles
506 South Grand Avenue, Los Angeles, CA 90012
(213) 624-1011
The 17th Conference on Health Care of the Chinese in North America is made possible by the generosity of our Supporters, Partners and Contributors. If you would also like to be a supporter of the conference, please visit the Support Opportunities page.
Diamond Supporter

Pacific Alliance Medical Center (PAMC), established in 1989, is located in the heart of Chinatown, Los Angeles. PAMC, formerly known as French Hospital, was the second hospital founded in the city and has been continuously providing health care services to the community since 1860. PAMC is the oldest hospital operating continuously from one site in Los Angeles. The hospital provides health care that focuses on the sensitivity of the needs of a diverse population and strives for continued improvement in the quality of its services. The physicians and staff are multicultural and multilingual, speaking more than 25 difference languages and dialects. PAMC has earned numerous prestigious awards and recognition, including the 2013 Healthgrades Clinical Distinction for Cardiac, Stroke, Critical Care, and Maternity Care. The hospital earned a five-star hospital award from Cleverley and Associates in 2007 and 2008 and was also recognized by Thomson Reuters as one of the 100 Top Hospitals in the United States in 2007. In 2006, PAMC was the only Southern California hospital to be recognized as a Thompson 100 top hospitals performance improvement leader. This year, PAMC is celebrating its 25th year of compassionate, focused health care to the Los Angeles community.
For more information, please visit www.pamc.net.
Federation of Chinese American and Chinese Canadian Medical Societies (FCMS)
Members and Partner Organizations:
Contributor:
PAMC Health Foundation
PAMC Health Foundation is a 501 (c) (3) non-profit organization established in 1991, with the goal of making health education and health information available to the Chinese community and to improve the health care of the overall local community. In partnership with Pacific Alliance Medical Center and American Heart Association, PAMC Health Foundation made history by pioneering the first complete Chinese language Cardiopulmonary Resuscitation curriculum. From 1996 to 2004, the Foundation televised a weekly health educational program on the TVB Jade Channel. For the past 10 years, the Foundation has pulibshed a free quarterly newsletter in Chinese, written and edited by local physician experts, that contains important health information for patients and the community.
For more information, please visit http://www.foundationpamc.org/


---
Commercial Support
The Chinese American Medical Association of Southern California (CAMASC) gratefully acknowledges the independent educational grants received from the following educational grantors in support of this educational activity:
Bristol-Myers Squibb Company
Gilead Sciences
Pfizer, Inc.
Disclosure Statement
As a CME provider accredited by IMQ/CMA, CAMASC must ensure balance, independence, objectivity and scientific rigor in all of its sponsored CME activities. Course director(s), planning committee members, content reviewers, faculty, moderators, staff and all others who are in a position to control, involve in the planning, or deliver the content of this educational activity are required to disclose all relevant financial relationships with any commercial interest related to the subject matter of the CME activity. Safeguards against commercial bias have been put in place. Faculty will also disclose any off-label and/or investigative use of pharmaceuticals or instruments discussed in his/her presentation. Detailed disclosures will be made prior to the CME presentations and on course materials.