Conference Support Opportunities
The Seventeenth Conference on Health Care of the Chinese in North America
"Preventive Care: Opportunities and Challenges"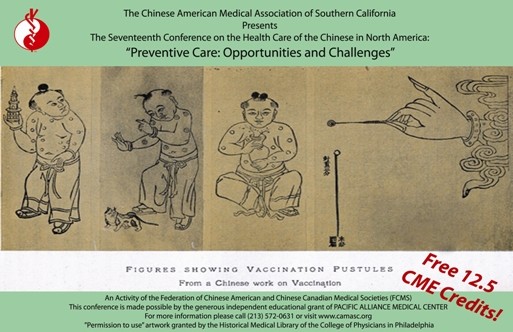 Date: Saturday, October 11 - Sunday, October 12, 2014
Location: Los Angeles, CA
Venue: Millennium Biltmore Hotel Los Angeles
506 South Grand Avenue, Los Angeles, CA 90012
(213) 624-1011
This conference provides a variety of marketing and support opportunities. To assist you in maximizing your exposure, we are offering many types and levels of support. Please select the type you are interested in for more information:
CAMASC is a 501(c) 6 non-profit organization. All contributions or gifts to CAMASC are not deductible as charitable contributions for federal income tax purposes.
CAMASC observes all privacy laws and will not release any or partial membership/attendee information to any entities other than under lawful order. CAMASC will not endorse any product, service or company due to liability issues. No form of solicitation is allowed other than in designated areas of all CAMASC events.
CAMASC reserves the right to serve or print as deemed necessary. CAMASC reserves the right to rearrange presentation schedule and exhibit space as deemed necessary. CAMASC reserves the right to revise the content of support as deemed necessary.
Please contact us for additional questions:
Office Location:
Chinese American Medical Association of Southern California (CAMASC)
625 West College Street, Suite 209
Los Angeles, CA 90012
Office Number:
(213) 572-0631
Office Fax:
(213) 572-0635
Email:

This email address is being protected from spambots. You need JavaScript enabled to view it.