Conference Planning Committee
The Seventeenth Conference on Health Care of the Chinese in North America
"Preventive Care: Opportunities and Challenges"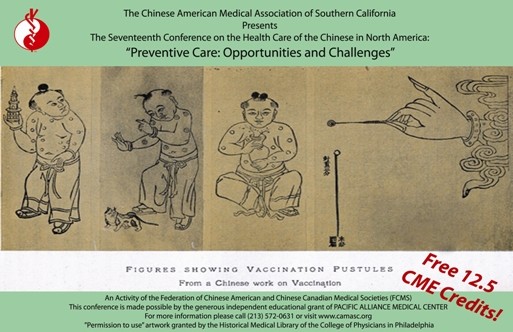 Date: Saturday, October 11 - Sunday, October 12, 2014
Location: Los Angeles, CA
Venue: Millennium Biltmore Hotel Los Angeles
506 South Grand Avenue, Los Angeles, CA 90012
(213) 624-1011

Conference Planning Committees

Executive Committee
Paul H. Chu, M.D., Chair
Firmin Ho, M.D.
Tit Sang Li, M.D.
George W. Ma, M.D., President
Shi-Yin Wong, M.D., Ph.D.
Christina Kan, M.S., M.B.A, Executive Director
Finance Committee
Thomas N. Hwee, M.D., Chair
Hin-Chiu Hung, M.D., Co-Chair
Carl Moy, M.D.
Scientific Program Committee
Kwok L. Chung, M.D., Chair
Oscar Chien, M.D.
Yiu Ting Chung, M.D.
Ben Ha, M.D.
Eddie Hu, M.D.
Yi Kong Keung, M.D.
Stephen Kwan, M.D.
Kitty Lam, M.D.
Terry Lee, M.D.
John Liu, M.D.
Henry R. Tseng, D.P.M.
Steven Wang, M.D.
Peter Ho Win, M.D.
Felix C. Yip, M.D.