The Seventeenth Conference on Health Care of the Chinese in North America
"Preventive Care: Opportunities and Challenges"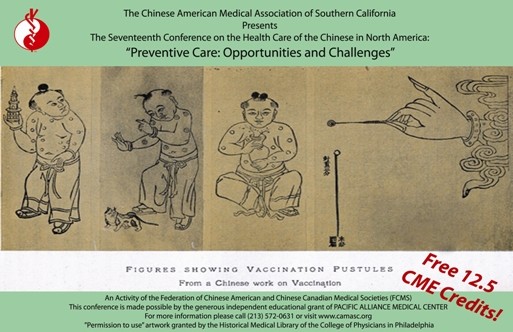 Date: Saturday, October 11 - Sunday, October 12, 2014
Location: Los Angeles, CA
Venue: Millennium Biltmore Hotel Los Angeles
506 South Grand Avenue, Los Angeles, CA 90012
(213) 624-1011
Chinatown Los Angeles is located just a few minutes away from the Conference site, enjoy plenty of authentic Chinese food, bargain shopping, and culture! There are plenty of exciting events year round. So take a tour through Chinatown and take in all the sights from the streets to the wonderful art galleries and museums.
Probably the most famous and beloved theme parks in California, Disneyland is 35 minutes away from Downtown Los Angeles. Home to Mickey, Pluto, and the rest of the gang, Disneyland is fun for the whole family!
This is Los Angeles' oldest open-air market, though it is not actually open-air. The building has a variety of food, such as fresh fruits, vegetables, meats, poultry and fresh fish. Visit this market and take in all its bustling activity. It is truly an experience to have!

Home to movie stars, the Hollywood Walk of Fame, and Grauman's Chinese Theater, Hollywood is the Entertainment Capital of the world. Whether you are interested in night life, shopping, or just sight-seeing, Hollywood is the way to go!
The Huntington Library, located in San Marino, is not only a library but also an art gallery featuring English portraits and French eighteenth-century furniture, in addition to a beautiful botanical garden with various gardens such as the Japanese Garden, Desert Garden, and Rose Garden.
"America's 1st Theme Park", Knott's Berry Farm houses 40 rides total, including 9 roller coasters and 4 water rides. Located in Buena Park, Knott's Berry Farm is just short of 20 minutes from Downtown Los Angeles.
Looking for some bargain shopping? Well, there is no better place to visit than the LA Fashion District. The District spans 90 blocks full of apparel and shopping fun. There is a variety of clothing options and various stores to visit. Do not miss out!
L.A. Live is an entertainment complex across the street from the Staples Center. It is currently still undergoing construction and expected to complete by 2010, but shops and restaurants are already open. It features the Nokia Plaza, Nokia Theatre, Grammy Museum, movie theaters, restaurants, bars, and hotels.
Feel like eating some sushi or ramen? Well, this is the place to go! Little Tokyo is full of delicious eateries and Japanese culture. It is located just a few minutes from the Conference site and a must-see for visitors.
The Los Angeles Public Library is known for its beautiful architecture, as well as hosting many public art installations. Visit the library for some peace and quiet, or see what exciting new exhibits and events are happening!
Museum of Contemporary Art (MOCA)

MOCA was founded in 1979 and is the only museum in Los Angeles dedicated to exclusively promoting contemporary art. Housing over 5,000 works, MOCA has developed one of the nation's most renowned permanent collections.
Home of the NBA's Los Angeles Lakers and Los Angeles Clippers, the NHL's Los Angeles Kings, and the WNBA's Los Angeles Sparks, the Staples Center is known for its sports events. Not only are sports events familiar to the Staples Center, it is also a frequent venue for special events, including concerts by U2, Dave Matthews, Reba McEntire, Shakira, and the Backstreet Boys, the ESPN X Games, the 2000 Democratic National Convention, and GRAMMY Awards shows.
Universal Studios Hollywood, located in the Entertainment Capital of Los Angeles (LA), is just 15 minutes away from Downtown LA. Not only is Universal Studios Hollywood a theme park with thrilling rides and shows, it also includes a working movie studio and LA's hottest restaurants, shops, and cinemas.
The Walt Disney Concert Hall is home to the Los Angeles Philharmonic, Southern California's leading performance art institute and one of the world's outstanding orchestras. In addition to music performed by the Los Angeles Philharmonic, the Walt Disney Concert Hall also presents concerts ranging from world music to jazz to contemporary.