Conference Registration

The Seventeenth Conference on Health Care of the Chinese in North America
"Preventive Care: Opportunities and Challenges"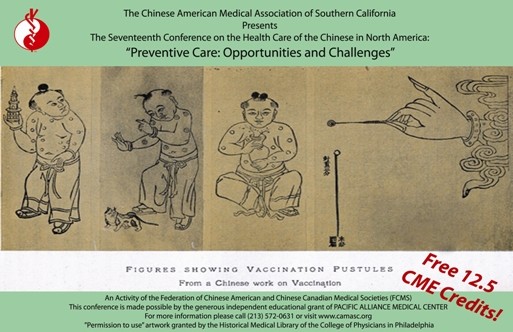 Date: Saturday, October 11 - Sunday, October 12, 2014
Location: Los Angeles, CA
Venue: Millennium Biltmore Hotel Los Angeles
506 South Grand Avenue, Los Angeles, CA 90012
(213) 624-1011

This conference is made possible by a generous independent educational grant from Pacific Alliance Medical Center.

Registration is free to all licensed or registered healthcare professionals in patient care and clinical research. Space is limited! Free to the first 600 registrants only!

Registration deadline: Thursday, September 18, 2014.
There are three (3) ways to submit the conference registration form:
Online Registration:


CLICK HERE to directly register online

Fax:
(213) 572-0635

CLICK HERE to print a registration form

Mail:
625 W College St, Ste 209
Los Angeles, CA 90012

CLICK HERE to print a registration form

Americans with Disabilities Act (ADA) Statement:
CAMASC complies with the Americans with Disabilities Act. Please contact our CME Administrator via phone at 213-572-0631 or email at This email address is being protected from spambots. You need JavaScript enabled to view it. no later than Thursday, September 18, 2014. Every reasonable effort will be made to accommodate your special needs.